We've just made it easier to keep track of your finances! Our new connectivity options for TD, Scotiabank, and CIBC login allow users to combine banking activity with stocks and investments for a complete view of assets and net worth.
Say goodbye to multiple logins (No more TD Easyweb login, CIBC login or Scotiabank login.) and hello to convenient consolidated portfolio tracker app with Wealthica. 🔥
♾️ Expand Connectors (TD Easyweb, Scotiabank & CIBC Login)
We have been historically relying on "Yodlee", a fintech company that provides data aggregation and analytics services for financial institutions and technology companies, to provide online banking connectivity. Focussing our own resources on building the best connectivity to Canadian investment portals. But results with Yodlee connectors have been mixed.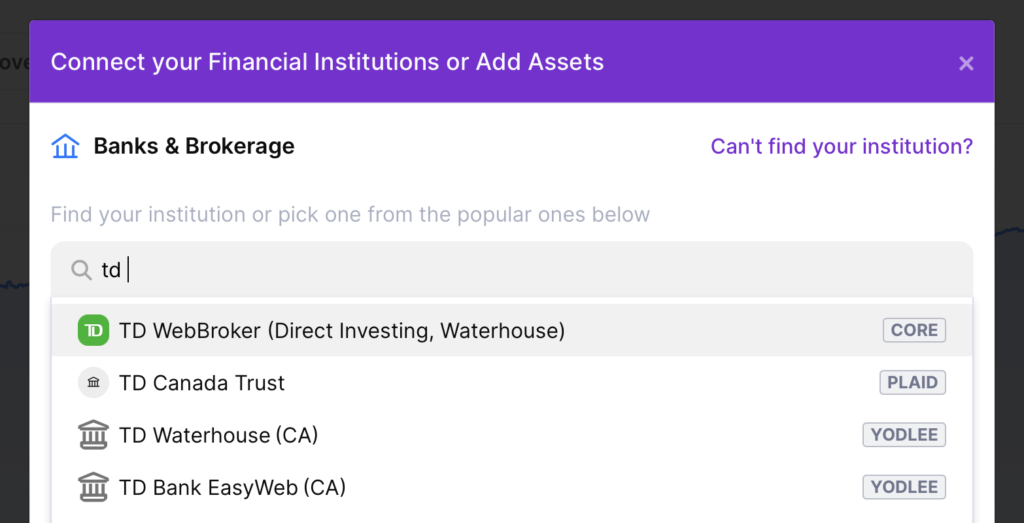 Today, we added a new third-party connector provider called Plaid.
Plaid should bring more reliability to regular banking connectors. It joins the Expand collection of connectors with Yodlee and Vezgo (the Plaid of Crypto). As of Today, Plaid connectivity is available for TD Easyweb, Scotiabank and CIBC Online Banking.
If you are having problems with the TD Bank EasyWeb (CA) connector that is powered by Yodlee, try the new TD Canada Trust connector powered by Plaid. You will find indication of which aggregator powers a connector in the right of the institution list in the Add Institution flow.
Core Connectors and Open Banking

At Wealthica, we focussed on developing the most reliable aggregation engine for investment data. We implemented and offer reliable connectivity options for brokerages like Wealthsimple, Questrade, Qtrade or Interactive Brokers. We also actively maintain and support connectivity options to the big banks investment and wealth management portals like Scotia iTrade, TD Webbroker, CIBC Investor's Edge and the likes. That's what we call our Core collection of connectors.
As many of you may know, there is no such thing as a TD API, a Scotiabank API or a CIBC API in Canada. The big banks do not currently offer an API for developers and fintechs like Wealthica to interact with their users' data. This means Wealthica and other aggregators need to develop their own techniques to sync your bank data. Until Open Banking in a reality in Canada, this results in a not-so-reliable experience and lots of work for aggregators like us to maintain reliable connectivity.
However, over the last few years, Wealthica developed a powerful aggregation solution to consolidate Canadian Investment data. Wealthica also offers an API for developers to easily access and interact with data from these financial institutions. This is especially valuable for those in the Canadian fintech space, where open banking is lagging behind other countries.
In Canada, the open banking framework is still in its early stages of development. The Financial Consumer Agency of Canada (FCAC) is leading the development of the framework in collaboration with the federal government and financial institutions.
The implementation of open banking in Canada will bring a number of benefits for customers, including greater competition, innovation and choice in the financial services market. It will also enable customers to access their financial data from multiple institutions through a single platform, making it easier to manage and track their finances.
Until Open Banking is a reality, Wealthica will continue to offer a mix of connectivity options to provide the best and most reliable options for Canadian investors to see all of their assets in one place. We're committed to providing our users with the best possible experience, and this enhanced support for banking connectivity is a big step towards achieving that goal.
If you're a developer looking to access data from TD, Scotiabank, or CIBC, or a user looking for a more reliable and secure way to access your online banking, give Wealthica a try. With our enhanced support for banking connectivity, you won't be disappointed.
Signup for Wealthica here.