We are excited to announce the launch of the new Wealthica iOS Portfolio Tracker App, which brings the mobile experience closer than ever to the desktop version. With this new app, users will have access to a range of advanced features that were previously only available on the desktop version. These new additions makes Wealthica the Best Portfolio Tracker App in Canada! Android version will be coming in the next few days with the same features.
The new app offers an unprecedented level of control over your investment portfolio, allowing you to track and analyze your assets from your mobile device. The Wealthica Portfolio Tracker App Canada is now more powerful than ever, giving you the ability to view your portfolio and holdings by groups or family members. As our testimonials page shows, thanks to you all Wealthica is for sure one of the best portfolio tracker app in Canada.
Your Preferred Portfolio Tracker App New Features
We've added the ability to view your portfolio and holdings by groups or family members.
We brought back the YTD option for the chart & data
We brought back the dollar and % change on the net worth chart
Holdings allows you to toggle between market value, dollar change and P&L
We added the ability to manually override the holdings categories
Groups and Family Members Now On Mobile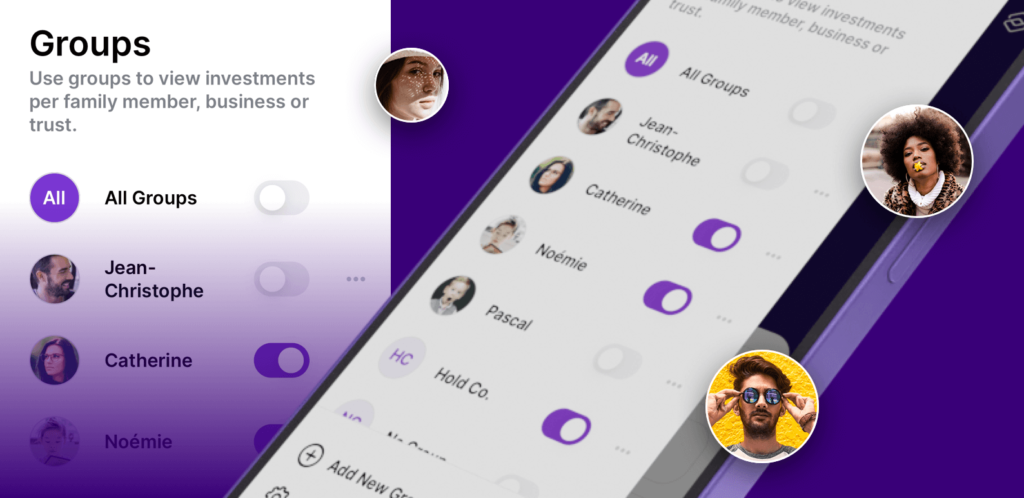 The Wealthica App has just introduced a new feature that allows users to filter and manage their investments by groups and family members, including management companies or trusts. This feature is designed to help families and investors streamline the management of their shared investments and financial goals. It's a favorite feature of Wealthica desktop users, as it provides a powerful tool to manage their financial assets.
With this new feature, users can now create custom groups for their family members, management company, or trust, and view all their shared investments and accounts in one place. This eliminates the need to switch between multiple accounts and makes it easy to keep track of shared investments and financial goals.
7 Years of Wealthica
Wealthica is a Stock Tracker App that features the ability to synchronize all your investment accounts in one place. With the recent addition of crypto portfolio tracker features (powered by the Vezgo Crypto Data API), you can now track your digital assets alongside your traditional investments.
Finally, we've made some minor enhancements and bug fixes to the app, including the ability to sort the holdings list by market value, and the option to hide all holdings and accounts with a zero balance from view.
We hope you enjoy these new features and improvements. As always, if you have any questions or feedback, don't hesitate to reach out to us.
Thank you for using Wealthica!