Major Wealthica Release: Holdings, Add-ons and Now Syncing with 42 Canadian Investment Institutions
Last week marked an important milestone that will shape Wealthica's future: the release of add-ons. In the last three months, we also major features: new holdings layout, categorizations and additional supported institutions. We're now syncing with 42 Canadian investment institutions!
0.75.0 "Douglas Adams"
The answer to life, the universe and everything. This releases adds support for HSBC InvestDirect, Qtrade and Credential Asset Management, which brings the total number of supported institutions and investment platforms to 42. It means a lot to us, it sure means a lot for Douglas Adams and we hope it means a lot to you!
Added support for Qtrade, HSBC InvestDirect and Credential Asset Management
Major bug fix and overhaul of the TD WebBroker connector
Added support for Australian Dollar, Hong Kong Dollar and Vietnamese Dong
Allow for institutions to take more than 30 seconds when adding or updating by redirecting to poll endpoint instead of timing out
Fixed an issue that would cause "no longer owned positions" to still appear
in Holdings widget
Various other bugs fixes and improvements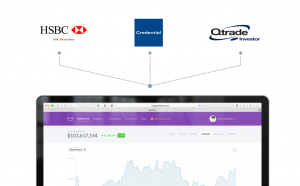 v0.74.0 "Falcon Heavy"
Have you seen Falcon Heavy's epic take off and landing? This release is our Falcon Heavy. It is the first step into the future for Wealthica : Add-ons. Wealthica add-ons empower third party developers with the possibility to extend Wealthica's features. It goes further into our mission to empower investors with their financial data and opens the door to integrations with third party applications.
As a start and in order for you to preview what can be done with add-ons, we released the first two Dashboard Add-ons : Cryptocurrencies and Stockchase Expert Opinions.
This is a major new release which includes:
Initial launch of Wealthica Add-ons. Currently this is limited to customizable widgets, with two new widgets: "Cryptocurrencies" and "Stockchase"
Fixed issue with BMO InvestorLine transactions parsing and retrieval that would cause transactions to be improperly imported and/or InvestorLine staying in "syncing" or "rescheduled" state for extended period of time
Initial Beta (unpublished) support for HSBC InvestDirect
Several other bugs fixes and improvements
Cryptocurrencies
Trending topic for sure, many of our users have crypto currency assets. We still don't allow to sync your crypto currencies to your Wealthica account besides tracking it manually (quick FYI: we are working on it) but now offer a cryptocurrency add-on with a nice widget to display some cryptocurrency rates on your dashboard.
Stockchase
As some of you already know, we recently purchased Stockchase (and we're working hard to enhance the site with new features). Stockchase publishes investment experts' opinions about stocks. Our new add-on matches your stocks with expert opinions. It allows you to have a quick view or what the experts are saying about stocks you own. You can enable this add-on easily through the dashboard.


v0.73.0 "Super Bowl"
You've probably been waiting for this release as long as you've been waiting for the Super Bowl. That's at least one year. It's finally here: asset class customization and asset categorization. Such also fixes an issue with transactions reordering and improves front-end transactions validation.
v0.72.0 "Johnny Hallyday"
RIP Johnny! Goodbye Rescheduled Syncs.
This release fixes a long-standing issue with transactions recognition that would cause institutions to partially sync and to remain in "rescheduled" state for an extended period of time. This was particularly true for institutions that sometime report same day transactions out of order, such as CIBC, Tangerine, BMO InvestorLine and TD WebBroker. It also prevents a rare case that would cause missing or duplicate transactions for RBC and NBCN. Added support for Wealthsimple High Interest Savings Account (HISA). Furthermore, there are various bug fixes and improvements, including several several fixes for Industrial Alliance, Sun Life, WealthBar and RBC.
v0.71.0 "Google Finance"
An important flow of new users looking for a Google Finance alternative made their way to Wealthica so we thought it was time for an improvements release to make sure they have the best experience ever!
This release brings several major bug fixes and improvements:
Updated WealthBar to use their new secure, read-only 3rd party API access
Added support for Wealthsimple 2FA login
Improved geolocation lookup for new browser/location security email notification
Improved Holdings and position API to group same position
Improved API filtering with support to filter by groups
Several bug fixes and improvements, including fixes for RBC, Standard Life, Wealthsimple and EQ Bank
What's next?
We have many requests for support of regular banking portals and accounts, for better cryptocurrency support and for CSV import-export functionalities. Those are the next three likely major product features we will be working on thanks to the new add-on capabilities. If you are a developer and interested in working with us on those extensions, don't be shy and get in touch!

Latest posts by Phil Siarri
(see all)