A Conversation with Elayamani Krishnamoorthi, Creator of the Portfolio Tracker Add-On for Wealthica
I had an opportunity to sit down with Vancouver-based software developer and Wealthica supporter Elayamani Krishnamoorthi. He is the author of the Portfolio Tracker Add-On for Wealthica, which enables users to compare their portfolio value against the total deposits made as of date.
We discussed what attracted him to Wealthica, his reasons for conceiving the add-on and more.
Phil Siarri: Hello Elayamanin, nice to connect with you. Can you tell me a little bit about your academic and professional background?
Elayamani Krishnamoorthi: Hi Phil, I am from India and did my undergraduate degree in Information Technology from CEG (College Of Engineering Guindy), in Chennai. During my college days, I was very passionate about computer networks and web development. I had developed a few websites for the internal college symposiums for multiple departments.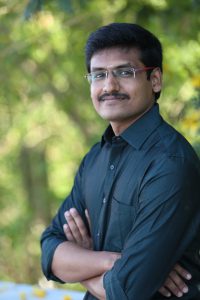 After college, I joined New York-based investment management firm D.E.Shaw as a software developer in 2010. I was a back end developer in the "Feeds Team" which took care of parsing market data from stock exchanges and feeding them into real-time trading applications. I had a great experience at D.E.Shaw and learnt much about trading and investments.
During the beginning of 2015, I got an opportunity to work with Zenefits which was a hot startup around that time. Zenefits offers SaaS HR solutions and I was part of the benefits team. For that role I moved to Vancouver. There, I started as a full stack engineer and learnt a lot of things in web and product development. Currently, I am working as a consultant for a San Francisco-based startup.
During my free time, I really enjoy developing plugins and add-ons for various websites.
PS: What sparked your interest with Wealthica? What's a key feature you particularly like?
EK: I started trading in Canada last year and I had been looking for a tool to consolidate all my investment accounts. I was using Google Finance, Yahoo Finance, and Stockers.ca but everything was lacking one feature or the other. I was especially looking for a tool which automatically syncs data from my trading accounts. After quite a bit of exploration, I came to know Wealthica in one of the blog posts which mentioned that Wealthica is the "Personal Capital of Canada". The beauty of Wealthica which made me open an account without any hesitation is the API sync from Questrade.
When I opened the account I didn't realize the full power of Wealthica but over the period of time, I found it extremely useful for maintaining my portfolio. Wealthica is a simple tool for every investor which does investment consolidation and maintains a snapshot on a daily basis. For what's it worth, trading accounts don't provide portfolio snapshot across days, so Wealthica is the best alternative.
I liked all the features of Wealthica but when I figured out the developer add-on, it became my favorite one.
PS: You are the creator of the Portfolio Tracker Add-On for Wealthica. What made you want to conceive such? Can you explain its main functionalities and how it benefits Wealthica users?
EK: One thing that I always wanted to see is the P/L (profit and loss) timeline and outstanding P/L ratio. The Wealthica dashboard showed me the overall investment growth ratio but I wanted to exclude the deposits and see just the P/L. I went through the existing add-ons and came to know about the developer add-on. I started googling if someone else had written any dev add-ons and came to know about the "wealthica-cryptos-addon". From there, I learned about the wealthica.js library and decided to write the developer add-on for my own needs basically.
The add-on primarily focuses on showing the performance timeline which is the portfolio value against the total deposits made over the period of time. Wealthica has the portfolio value as-of date which helped me to easily build the P/L timeline.

I also went ahead and added more charts to the same add-on to ease investor life. One chart among them is the stock timeline with the security transactions. The stock timeline helps investors to visualize all the transactions corresponding to security over a timeline.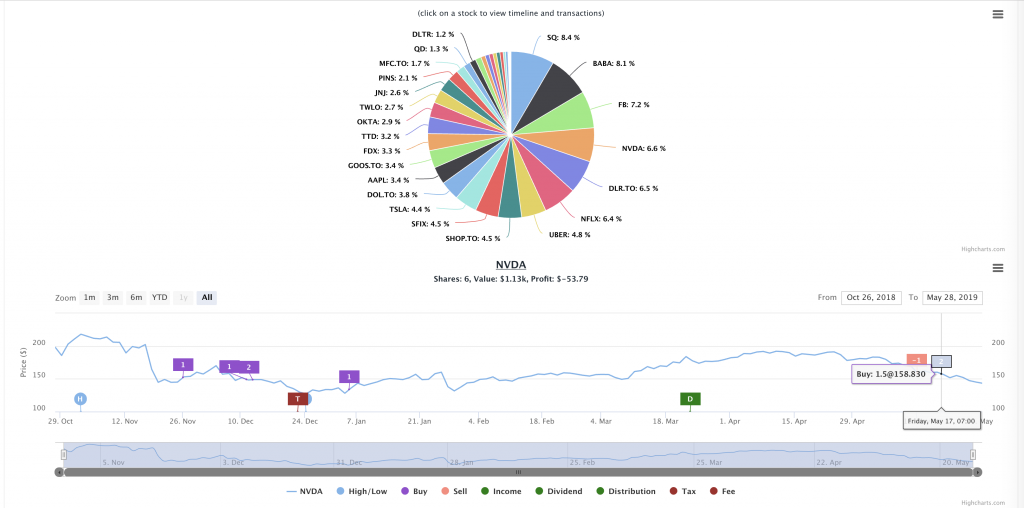 PS: As a developer, did you enjoy the overall process of putting together the add-on? Was there anything that stood out?
EK: The wealthica.js library is so simple and easily adaptable. The documentation is very good and the sample add-on helped me to easily understand how the library works. I was able to complete my initial P/L timeline work within two days, the library was so easy to use.
PS: Thanks a lot for your time Elayamani, I appreciate your answers. Anything else you'd like to add?
EK: Nice talking to you Phil, it's a great pleasure for me to share my experience with you about Wealthica. You guys have done splendid work in building Wealthica for us, I am eagerly looking out for more features and updates.
If you are a developer, feel free to consult the add-on page on GitHub.