Wealthica Mobile App Now Available
You've been asking for a mobile app for a long time.
We're happy to announce that it's finally here!
You can now track your entire net worth and investments on your mobile phone. Available for both Android and iOS, the new Wealthica App is the perfect companion to Wealthica's web dashboard. Wealthica allows you to stay in touch with your investments and finances wherever you are.
Can't wait to try it out? Install it from the Apple App Store or Google Play Store.
Hey @frugaltrader can we get listed into your Favorite Personal Finance Apps list now? ?
At the time we were first mentioned in Million Dollar Journey's comment thread, we were just starting out, tracking $200M in assets. We're now closer to $3B of investments tracked now .. and we've got an app. Hopefully we'll get to $10B soon thanks to our new mobile companion app.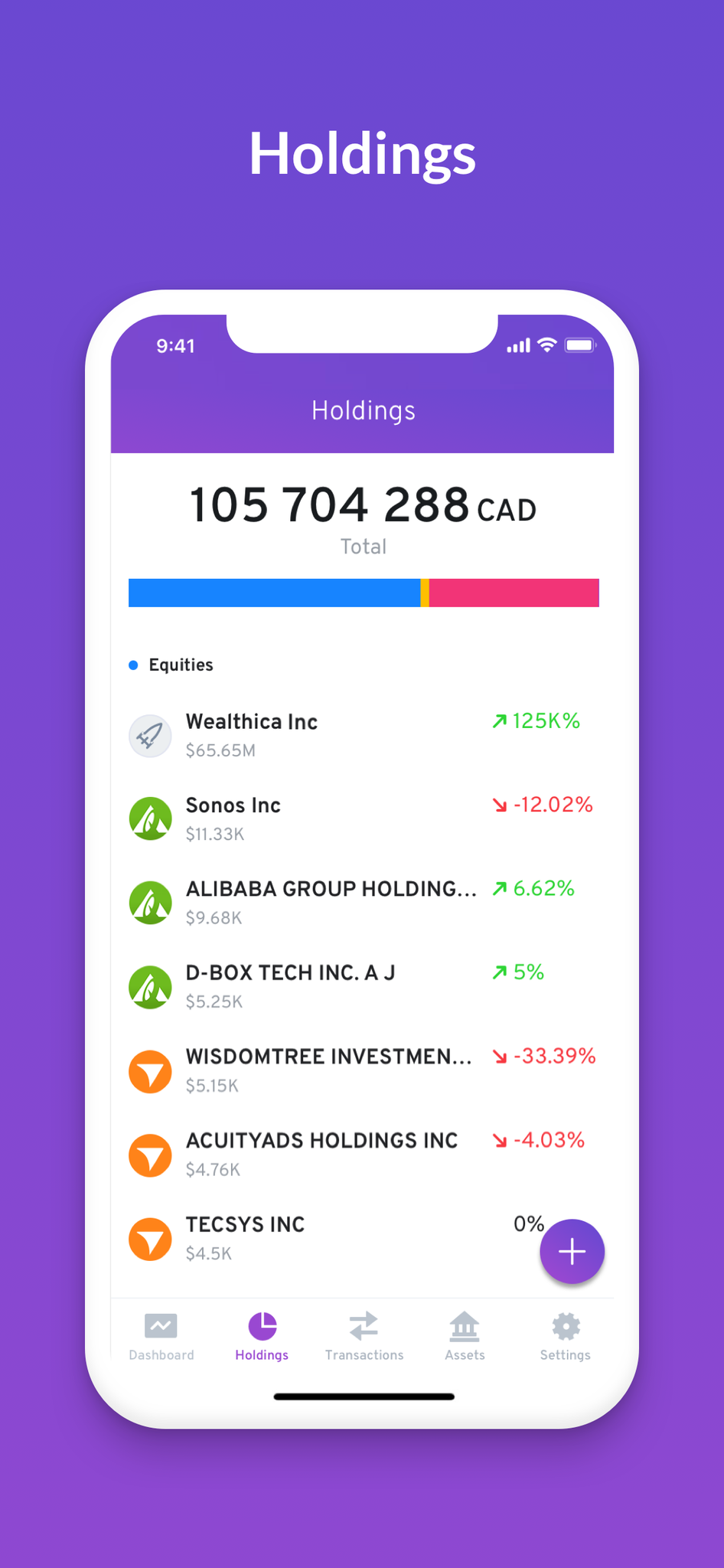 Your net worth in your pocket
Each day Wealthica connects to your financial institutions and saves all your transaction history. It allows you to see all your investments in one place and get an unbiased view of your wealth. It's the easiest way to track all your assets and investments in one place. Now, you can keep an eye on your wealth on the go using Wealthica's mobile app.
A better way to login to your brokerage
You can log-on to both the Web App and the Mobile App with the same credentials and access your whole net worth. Your transactions and holdings are synched to Wealthica daily and available in both the mobile and desktop apps.
Wealthica was recommended to me as a better way to view my Questrade account without login into Questrade (because the account summary platform sucks! — Anthony H. —
As Anthony tells us, account summaries from your institution's portal often suck and you need to log into each and every brokerage and financial institution's you have one at a time. Wealthica allows you to sync all your investment institutions and get the whole picture under a single login. The app, as the web site, supports +55 Canadian financial institutions and brokerages and focuses on aggregating your investment accounts.
Enhance account management and login from your preferred Canadian brokerage or financial institution like Questrade. Login with Questrade's API is one of the most popular institution with Wealthica but we also support a lot more : AGF, Aligned Capital Partners, Assante, BMO InvestorLine, BMO adviceDirect, BMO Nesbitt Burns, Canaccord Genuity, CIBC Investor's Edge, CIBC Wood Gundy, Computershare Employee Online, Credential Asset Management, Cumberland Private Wealth, Desjardins Valeurs Mobilières (VMD), Desjardins Courtage en Ligne (Disnat), Desjardins Financial Security Investments (SFL), Épargne Placement Québec, EQ Bank, Fondaction CSN, Fonds de solidarité FTQ, Gestion FÉRIQUE, Great-West Group Retirement (GRS), Harbourfront Wealth Management, HollisWealth, HSBC InvestDirect, Industrial Alliance Financial Group, Industrial Alliance Investia, Industrial Alliance Securities, Interactive Brokers, Investors Group, IPC Investment, IPC Securities, Laurentian Bank Direct Brokerage, Manulife Group Retirement (GRS), Manulife VIP Room (previously Standard Life), Manulife Securities, MD Financial Management, National Bank Independent Network (NBIN and NBCN), National Bank Direct Brokerage, National Bank Financial, National Bank Private Banking 1859, National Bank Trust, Nest Wealth, Qtrade Investor, Quadrus, Questrade, RBC Direct Investing, RBC Dominion Securities, Richardson GMP, Scotia iTrade, Sun Life Financial, Tangerine, TD Direct Investing, TD Waterhouse, Virtual Brokers, WealthBar, Wealthsimple, Wellington-Altus Private Wealth.
Can't find your institution?
Email us so we can add your institution to our featured request list.
Download and Install the Free App
– Wealthica on Google Play
– Wealthica on the App Store
PS : If you are interested in stock ideas you can also look at our Stockchase App
Note that the Wealthica App still doesn't offer the full range of features you can find on the desktop version. It does offer the net worth, transactions and holdings view but in order to edit assets or transactions you will have to revert to the desktop version. We are actively working on new features and will update the app with additional functionalities periodically.
What would you like next?
We're working hard to enhance the mobile apps and make them better. Let us know what you would like to see in the next versions of our mobile app and on the desktop app too.
Thanks for reading !
Simon, Martin, Cody and the Team at Wealthica.