Instant Portfolio Analysis – The Secret to Exceed Your Financial Goals
Have you ever wondered if your portfolio is properly diversified and protected against downside? Wealthica is excited to announce the Wealthscope Portfolio Scorecard, available on Wealthica. The scorecard is available to all Wealthica users through a monthly or annual subscription.
Interestingly, while it is not difficult to find individual stock or fund reports (most brokerages provide them), investors have limited access to overall portfolio analysis.
— Wealthscope
Do More with Wealthica + Wealthscope

Wealthscope's Scorecard provides you with an instant portfolio analysis.
Once your holdings and accounts are synced, you can easily choose which accounts you would like to analyze. You can analyze one portfolio at a time, or create a portfolios from combined investment accounts and have them analyzed together.
What the scorecard can help you with :
Evaluate your diversification to further protect against downside
Rebalance your portfolio
Make better trades by simulate your account's weights and holdings before you execute any trades
Mitigate risk by exposing areas for improvement
Scorecard Portfolio Analysis: 5 Dimensions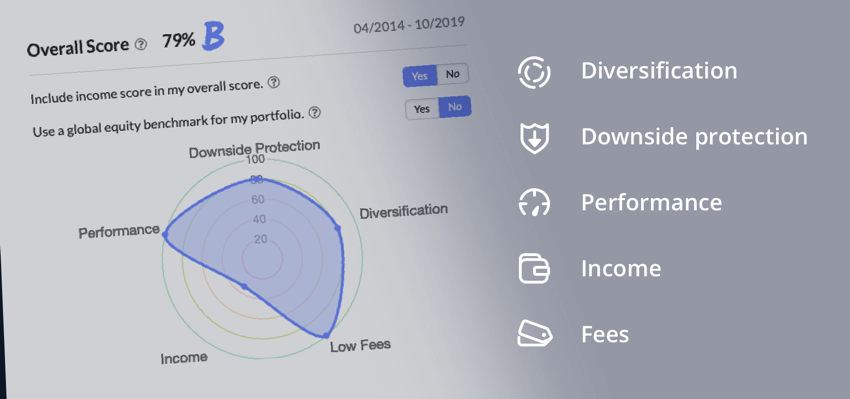 Your overall portfolio score is calculated from the analysis of five portfolio dimensions : diversification, downside protection, performance, income, and fees.
The scorecard also takes into account risk-factors, such as correlated risk, as well as any mitigating factors. It gives you the ability to evaluate portfolio risk on an overall portfolio rather than on an account basis.
Portfolio benchmarks are automatically assigned so you know whether your portfolio is expected to outperform the market cycle on a risk-adjusted basis.
Validate your Portfolio Return Expectations
No one can predict what a portfolio will return but analyzing your portfolio's risk and diversification can help define what gains or losses one can expect over the long-term.
You can also analyze an individual investment account, all of your accounts together, or a select group of accounts so you get a picture for yourself, your family, and any other accounts that you manage. The analysis can be easily customized to fit your needs.
The scorecard can help you with valuable insights

The scorecard will backtest your portfolio from as far as 2007 to today and shows you the all-time performance and returns you would have seen if you had this portfolio since then. This gives you a long-term perspective of your current portfolio structure and allocations.

The portfolio analysis will report on your portfolio's average Management Expense Ratio (MER) which is the annual fee you pay when you invest in mutual fund or an Exchange Traded Fund (ETF). Funds that are more actively managed usually have higher MERs. The lower the MER, the more of your money you can keep. Small fees eat into your profits over time so this feature will help you maximize your profits.

Once you analyze your portfolio, your stocks will be ranked according to the income they provide and gives the portfolio an income score. For those who's strategies are dividend investing, or if you need income and good clash flow, this score will help you efficiently allocate your funds.

The scorecard will identify the holdings which move together for better diversification. This is called correlation risk, where holdings move in the same direction. Usually, this happens because the equity is in the same sector, or there are connections between industries. A good diversified portfolio will have negative correlation, meaning that two variable move in opposite directions, mitigating downside.

The portfolio analysis reports on the risk exposure to different regional stock markets. There are geopolitical risk, as well as currency risk, when investing in various global markets. This breakdown will help you visualize where your investments are concentrated and evaluate the appropriate risk you want to take.

This breakdown is the value-weighted count of the stock holdings in each global sector within your stock sub-portfolio (or your total portfolio if you have no other asset class). Using this breakdown, you can take advantage of sectoral trends and better allocate your investments in sectors depending on your market outlook.
Do More with the Portfolio Analysis Scorecard
If you've ever asked yourself the following questions, Wealthscope can help with valuable insight:
Is my portfolio properly diversified?
What can I expect in different weights and allocations?
What is my net asset allocation?
It can be hard to keep track of multiple accounts within the same institution and even harder across institutions. Using Wealthica with the Wealthscope scorecard add-on will give you insight on the global health of your investment portfolio to come up with even better strategies and investment decisions.
You can read the following articles on why you should check your portfolio score as well as get more information on the Wealthscope Retail Investor Edition. Read Why you should check your portfolio score or more about Wealthscope Retail Investor Edition.
Up your investing game. Get Your Portfolio Scorecard, Effortlessly.
Now you can view your family portfolio net worth in one place and get unbiased insights and analysis of your portfolio. All this is now available within Wealthica.
You simply have to:
Signup free for Wealthica
Link your investment accounts
Add Wealthscope through the add-ons drop down menu
Get your instant Portfolio Scorecard
Wealthscope can also help you exceed your financial goals.
You have the ability to see how much you need to start saving and how this amount changes depending on different investment options.
---
See all your investments in one place
Analyze your Portfolio with the Scorecard
PROMO CODE : WSCOPE2020
Get 15% Off Wealthscope Annual Subscription
Valid Until 29-02-2020